At 7.50 AM July 10th, 1969 a sailboat was spotted drifting by the mail vessel Picardy at 33' 11'' North, 40' 28'' West off the Caribbean. The boat was boarded but nobody was found. An abandoned ship much like the Mary Celeste found 100 years earlier. It was obvious that somebody has been living here for a long time. The cabin was a mess with radio equipment, books and notes spread around including two ship logs and a radio log. The boat was Teignmouth Electron, a trimaran that participated in the Sunday Times Golden Globe Race, a single-handed race around the globe without any help. The sailor was Donald Crowhurst, an unknown sailor that signed on for the race in the last minute. A search was launched with no result. Donald Crowhurst was lost to the sea.
A tale of two journeys
Teignmouth Electron was found with two ship logs and one radio log. One of the logs reflected the route he sailed. Another reflected the route mandated by the race and the one he was expected to take. Donald Crowhurst began to use the fake log Dec 6; when he had decided not to sail around the Antarctic but instead hide in the Atlantic off South America. He kept both logs updated. Communication with ships in this part of the world was limited to brief radio transmissions with land-based radio stations. That would in this case be a station in New Zealand. It was not too hard to fool the race officials. Crowhurst resumed racing and broke radio silence on May 4th when he reported he had sailed around the world at a phenomenal speed. It was a sensation; an unknown sailor was now number two in the Golden Globe race.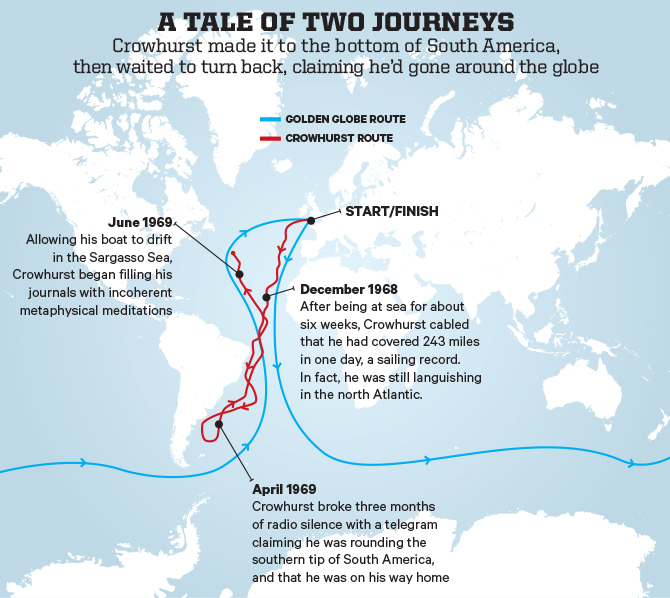 Teignmouth Electron was, when found, searched and the logbooks found. They revealed a stunning story: he never made it around the world, in fact he never left the Atlantic Ocean. Donald Crowhurst must have realized that he would never make it round the Cape Horn, let alone win the race. He was trapped. He would be disgraced and in a disastrous financial situation. He had bet everything and lost. In the end he became world famous but left wife and four children behind. The general belief is that he deliberately jumped into the sea.
.
Donald Crowhurst
Donald Crowhurst was a complex person: He was intelligent and inventive. One of the books he had aboard Teignmouth Electron was Einstein's "The Special and the General Theory". He was an electronic wizard with his own company, a seasoned sailor and first-rate navigator.
He designed Teignmouth Electron with many novel features. But the construction of the boat was forced, the building process took place in 3 phases simultaneously to save time. The boat was not ready when the race started: equipment was missing or not installed, it was slow windwards with steerings problems and was unfit for the storms of the Southern Ocean.
Why did he bring himself in the situation he ended up in. What does it do to a man being alone in a small vessel in a vast sea for 8 months? These are some of the questions raised about Donald Crowhurst and his last fatal journey.
Timeline
Oct 31st, day 1
Departed Teignmouth at 16:32 hours
Nov 15th, day 15
Off Portugal having logged 1,300 miles, was only 800 miles along his intended route, a distance he intended to cover in six days. He was beginning to realize that there was no way in which he could win the race with such slow progress
Nov 29th day 29
Off the Canary Islands, was possibly now having thoughts about faking the voyage.
Dec 6th, day 36
Off Cape Verde Islands. The start of the fake route. He would now use two Logbooks, one with actual route for navigation and one with the fake route.
Dec 19th, day 49
Crossed the Equator.
Dec 26th, day 55
Off Brazil. Damage found to the starboard hull.
1969 Jan 15th, day 75
His claimed position off Gough Island at the commencement of his radio silence, said to be heading for the Southern Ocean.
Mar 6th, day 126
Landed at Rio Salado, in Argentina for repairs. This would have disqualified him if it had been known by the race organisers. Departed Rio Salado 8th March.
March 29th, day 150
Off the Falkland Islands after slowly meandering around the South Atlantic to spend time while his fake route apparently rounded Cape Horn.
April 9th, day 161
Having slowly sailed north he breaks radio silence to send false signals about his position.
May 4th, day 185
His fake route through the Southern Ocean to Australia, New Zealand and Cape Horn would have taken him to this position on this date. He picks up his actual route, restarts serious racing and ceases deception.
May 21st, day 202
Position on the day that the race leader's, Nigel Tetley in Victress, boat sank. This put Crowhurst in the lead.
June 5th, day 217
Crowhurst now caught in a tangled web of deceit over his fake voyage and begins to doubt whether he can contain the guilt when he returns to Teignmouth as the winner. He crosses the Equator sailing north.
June 18th, day 230
Increasing despair over his situation. Logbooks filled with strange entries. His mind appears to be breaking down.
June 23rd, day 235
Teignmouth Electron sighted by SS Cuyahogg.
July 1st, day 243
Presumed point when Crowhurst went overboard.
July 10
Teignmouth Electron found abandoned by the RMS Picardy
References
https://en.wikipedia.org/wiki/Donald_Crowhurst
https://en.wikipedia.org/wiki/Sunday_Times_Golden_Globe_Race
https://www.youtube.com/watch?v=8boBxNlQSUM
https://books.google.fr/books/about/The_Strange_Last_Voyage_of_Donald_Crowhu.html?id=wS0XAQAAMAAJ&redir_esc=y&hl=da
Book:
The Strange Last Voyage of Donald Crowhurst
by Nicholas Tomalin and Ron Hall